Hey ONE Users,
We're back with some thrilling news that's going to elevate your messaging game! 📢
Starting right now, you have the power to send SMS messages to subscribers that you've collected outside of our app! 🌟 For example: through the Shopify checkout flow, 3rd party apps, etc.
Why is this a game-changer?
Seamless Communication:

No more switching between different messaging platforms. You can now manage all your SMS communication in one place – right here!

Increased Reach:

As long as the SMS subscribers you've collected outside of the ONE app are in your Shopify account, we can send to them! We'll also continue to automatically sync all of the SMS subscribers you've collected from the ONE app to your Shopify account so you don't have to lift a finger.

Enhanced Tracking:

All your favorite features for managing SMS campaigns are still here. Real-time delivery tracking, message scheduling, and analytics – you've got it all!
Log in to your ONE account.
Head to the SMS section.
Create a new SMS broadcast
Select "All Subscribers | on Shopify & ONE"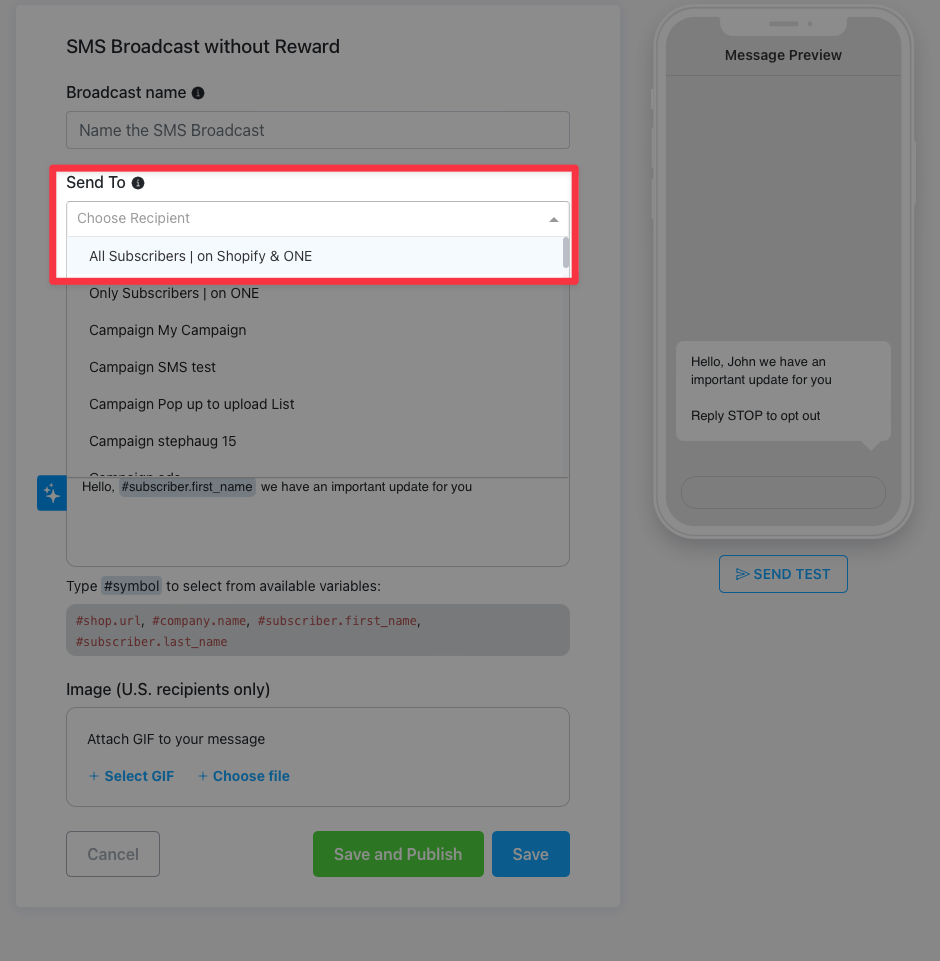 If you are selecting that option for the first time, you'll prompted to fill out a short form asking you to confirm that you are sending to SMS subscribers that were collected in accordance with TCPA guidelines.
We believe this update will revolutionize the way you connect with your audience by allowing greater reach than ever before!
Have questions or need assistance? Our support team is here to help! 🤝 Reach out to them at via live chat if you have any questions!
Thank you for being part of the ONE community. We're dedicated to making your experience exceptional, and this update is just the beginning.
Start messaging like never before – you've got the power! 💪
Stay tuned for more exciting updates coming your way soon.
Cheers to seamless communication! 📲
ONE Team